Welcome to Standard Concession Supply

Great Selection of Commercial Popcorn Machines and Poppers for Fun and Profit
Full line of Nostalgia Electrics Fun Food Appliances For Family Fun and Gifts
Cotton Candy Machines
Snow Cone Machines
Hot Dog Machines
Cotton Candy and Snow Cone Products
Popcorn Supplies
Candy Peanuts - Salted Peanuts - Peanut Gift Packs
Popcorn Gifts - Popcorn Bowls - Popcorn Bowl Gift Packs
Gourmet Coffees
Microwave Popcorn
Lemonade Supplies
Holiday Inflatables
Here at Standard Concession Supply you will find a variety of Popcorn Machines, Popcorn Poppers, Cotton Candy Machines , Snow Cone Machines and Hot Dog Machines for home and commercial use....at low discounted prices to save you money. And, we feature a full line of the Nostalgia Electrics Fun Food Appliances for the Home. Not only will you find here a variety of concession equipment and fun food and party appliances, but you will find a full compliment of the supplies to use with our appliances for commercial use, as well as, for residential use.
Standard Concession Supply is your complete fun food equipment and supply resource for commercial endeavors, festivals, church fairs, fundraising, gift-giving, family fun, home entertainment, birthday parties, and a whole lot more.

Featured Products
Commercial Popcorn Machines Snow Cone Machines
As Low as $279.99 Crush up to 500 lbs. of Ice Per Hour!
Cotton Candy Machines Home Hot Dog Roller
Great for Business and Home Use Cooks up to 8 hotdogs!
Now On Special for $377.97!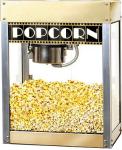 Premiere Hollywood Popcorn Machine
Pop Up Some Popcorn Hollywood Style
4 oz. Popcorn Machine only $279.99
Hot Air Popcorn Poppers
Great Birthday or Holiday Gift
Old Fashioned Cotton Candy Maker
Children and Family Fun Cotton Candy
By Nostalgia Electrics
Let this St Patty Day Bear
Brighten Up Your Celebrations
Our Fun Food Supplies Include:
* Pre-Packaged cotton candy cups and bags
* Popcorn Supplies - Including Popcorn Seasonings
* Snow Cone Syrups and Supplies
Scroll down below for more detailed product descriptions and products links.
If would like to contact us for futher information, you can email us at funfoods@cox.net, or you may call us at 757-473-8951 for friendly customer service.
Orders are normally shipped within one to three business days. Shipping charges are calculated when you checkout via our secure and encrypted shopping cart.
We accept
And Check by Mail
Se habla Espanol. If you need assistance in Spanish, please call 757-464-3474.
Check back often as we are always adding new products and posting new promotions.
Don't forget to bookmark us!
If you would like to recommend our website to a family member or friend, click here.
Looking to stay healthy?
At Standard Concession Supply you can even find information about the nutritional value of popcorn, which can be found on our popcorn facts page. And to gather up some information about how eating popcorn may prevent Type II Diabetes, head on over to our popcorn and diabetes news section.
We also offer up articles about the historical facts about popcorn and cotton candy, and alot of other useful and interesting information found in different locations around our website. Scroll down below to the next section under popcorn machines with a link leading to great tips and secrets found no where else concerning the use and operation of commercial popcorn machines. So stick around for awhile and check out the sites!
To see our Fun Food Special Item OF THE WEEK ..... scroll down below to the bottom of the page to see which Standard Concession Supply product is on special this week.