Add Magic To Your Holidays With Christmas Inflatables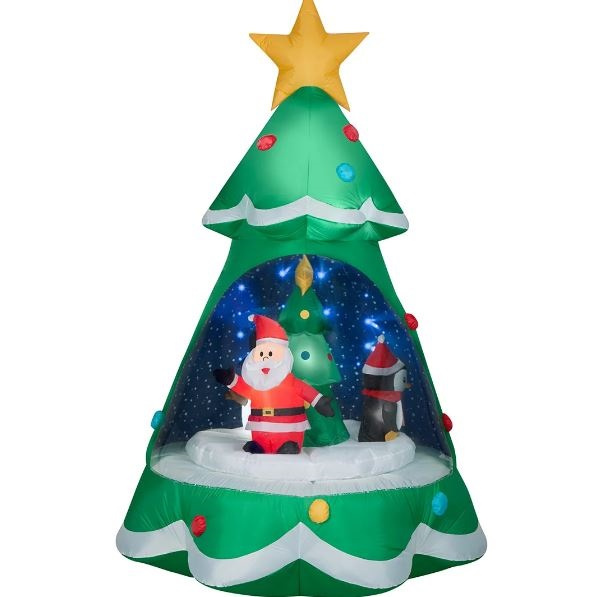 Christmas inflatables have become the latest trend in holiday decoration and manufacturers are getting in on this wave, offering more and more styles and sizes of these unique items. What better way to add an extra burst of Christmas cheer to your home than with a life size Santa or snowman or your favorite cartoon character in their holiday best?
While decorating the house and yard has always been popular at Christmas, it has grown even more so in recent years and with it has come the need for decorations that can stand up to wear and tear yet retain their looks from year to year. That's where inflatable decorations come in. Unlike their stiff plastic counterparts, they are more durable and less prone to weather related damage.
And when you think about it, Christmas inflatables offer the best of both worlds. Their size when expanded allows them to cover large amounts of ground space, making them ideal for those with large yards or large rooms to decorate. Yet when they are deflated, they reduce to small, manageable form making them easy to move and to store.
When it comes to the world of inflatable decorations, the sky is the limit. They range in size from smaller pieces that can be inflated by mouth to larger models that require an electric motor for inflation. Electric pumps are easily purchased and not too expensive so they shouldn't put a damper on your wallet during the holiday shopping season. Nowadays, nearly every Christmas Inflatable 4 foot tall or larger are equipped with internal motors to easily inflate your inflatable.
There is any number of decorations available, from individual figures to giant snow globes with artificial snow swirling around inside them. The popularity of these types of decorations has led to competition among manufacturers, which means prices have become much more reasonable over the years. They are more affordable and available in a larger selection than ever before.
Of course, Christmas inflatables are not without their drawbacks. As they are filled with air, even the smallest puncture can render them unusable, so they should be treated with care. Fortunately, their soft nature also makes them safer for use indoors around pets and small children. There is almost no limit to the possibilities when you add inflatable decorations to your holiday celebration.
Why limit yourself to the standard lights and plastic figures when dressing up your home for the holidays? Inflatable pieces can add a touch of sentimentality, fun, and magic into the mix for a look that can truly make your house stand out. Check out the different shapes and sizes that are available and you're sure to find something that suits your personal style.
The magic of Christmas truly comes to life with bright, beautiful inflatable decorations. Whether indoors or out, you can show your Christmas spirit in a big way. Don't hesitate, start thinking about your holiday decorations now and make next Christmas one to remember for the whole family!
Check out one of the largest selctions of Christmas Inflatables found anywhere in our Christmas Inflatables store.