The main difference between home theater popcorn machines and their large theatre cousins is mainly to do with size. Full theater popcorn machines are designed for the tasks of high-volume popcorn production. Small or medium-sized popcorn poppers are more suited for home use yet are powerful enough to make at least 120 one-ounce servings per hour.
Some of the most fanciful home theater popcorn machines are designed to mimic the old-fashioned popcorn carts of America's past. These quaint and nostalgic machine-and-cart combinations are good as extra-special decorative home theater touches. They can also be quite popular at birthday parties, school functions, Fourth of July celebrations, and church-run carnivals. In addition to these venues, popcorn machines and carts are growing in popularity at nursing homes, corporate employee appreciation functions, and little league concession stands.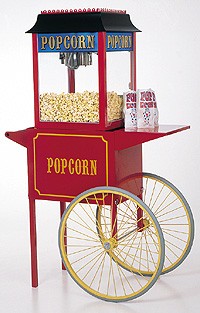 To see our selection of nostalgic, old fashioned, pool style and contempo popcorn machines for home theaters, visit our home theater popcorn machine page.