Top 7 Christmas Inflatables For 2021
7) Penguins in Helicopter Airblown Christmas Inflatable
Two Zany but fun-loving Penguins have decided to take over The Flying Penguin Helicopter. A red alert has been issued in the neighborhoods where these Penguins have decided to fly over. This animated Christmas inflatable features spinning propellers, candy-striped accents and two adorable penguins. Guaranteed to add some Holiday Joy to your neighborhood.
6) Animated Jazzy Musical Snowman Lighted Holiday Inflatable
Get ready, this Snowman is ready to play some Jazzy Holiday Tunes on his Candy Cane Saxophone! Watch;this Snowman decked out with top hat, green scarf, and black mittens sway to the song Jingle Bells.
5) 9 Foot Lab with Santa Hat and Scarf Christmas Inflatable
This Big Hunk of Love will definitely help brighten up the Holidays. Standing at 9 feet tall and donned with a Santa Hat and Green Scarf, kids will really love this puppy Labrador....and a lot of young in heart adults will fall in love as well.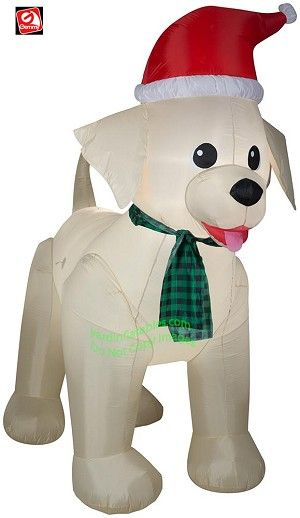 4) Elves With Milk And Cookies for Santa Christmas Inflatable
Truly a very heartwarming Christmas inflatable to lift everyone's Holiday spirit. Cute and adorable Christmas Scene featuring 2 Elves preparing some cookies and milk for Santa. This Gemmy Christmas Inflatable stands 6 feet tall. Will truly be a fan favorite for all ages.